Canberra has withdrawn from constructive engagement on the issue, says report, as Australia is grilled at crucial meeting in Germany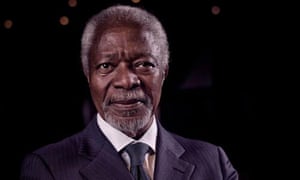 Australia has forfeited its position as a global leader on tackling climate change and is now a "free-rider", a panel led by former secretary general of the United Nations Kofi Annan has said.
The Africa Progress Report 2015 disputes claims by the fossil fuel lobby that moving away from carbon would impede economic growth in developing countries. It says high-emitting nations, such as Australia, have stepped back from global discussions in favour of unilateral action.
It is particular scathing about the direction in which Australia's climate change policies are headed.
"With one of the world's highest levels of per capita emissions, Australia has gone from leadership to free-rider status in climate diplomacy. Repeal of the Clean Energy Future Plan effectively abolished carbon pricing. Current policies will result in emissions increasing by about 12-18 per cent above 2000 emissions," it said.
"End the free rides: Australia, Canada, Japan and the Russian Federation should set a clear course for zero emissions by 2050, with deep reductions by 2030. These countries might consider the far higher level of ambition set by Ethiopia, Kenya and Rwanda."
Lobbying by coal companies is becoming more prominent, the report noted, saying they have been "campaigning vigorously" in Australia.
"Continued dependence on coal in power generation is holding back efforts to decarbonise growth," the report said. "Going to 'zero coal' is a global priority."
Australia was grilled by other delegates at a United Nations conference in Bonn, Germany on Thursday.
All delegates, including Australia, were asked about their progress towards a 2020 emissions reduction target, in preparation for the Paris conference on climate change later in December, though Australia received the highest number of questions on how it was progressing.
Environment minister Greg Hunt brushed aside the criticism, saying it was part of a regular process.
"Each country is asking questions and each country is being asked questions. What we've been party to is precisely what the international community should be doing," he told reporters on Friday.
Prime minister Tony Abbott blamed Labor for "talking down" Australia.
"Under this government we will meet our target. We will meet our target and it's a very internationally respectable target," Abbott told reporters on Friday.
"The difference between this government and our political opponents is that we will meet the target without smashing the economy with a great big new tax on everything."
Greens leader Richard Di Natale said Australia has become a "pariah" on its emissions reductions stance.
"How is it that we're effectively riding on the backs of some of the poorest nations who are in fact doing a great deal when it comes to addressing climate change?" he asked.
For further information: http://www.theguardian.com/environment/2015/jun/05/australia-has-forfeited-world-leadership-on-climate-policy-says-kofi-annan-panel?CMP=ema_632